Ari Silverstein is the quintessential native New Yorker. From East Village dives to the divine Upper EastSide of New York society, to Harlem haunts where the jazz masters built the foundations of jazz, he has you covered. His family came to NYC in 1906. His heritage in the City runs deep through the generations. Ari's personal connection to the scene was forged from being there from the beginning. He has personal tales to tell about the giants of the music world, and is a wealth of information about the good old days in New York that evolved through the decades to what is happening now. Ari makes his Jazz Walking Tour experiences completely unique. His eccentric personality, penchant for story-telling, and funny-man nature welcome you to the inside, back-room experience. He is known and loved by the pros, the proprietors, doormen and bartenders. With Jazz Walking Tours, his focus is to share his kaleidoscope vision of the City with you. Whether it be where to eat some great soul food to information on hidden/abandoned subway stations, Ari has you covered.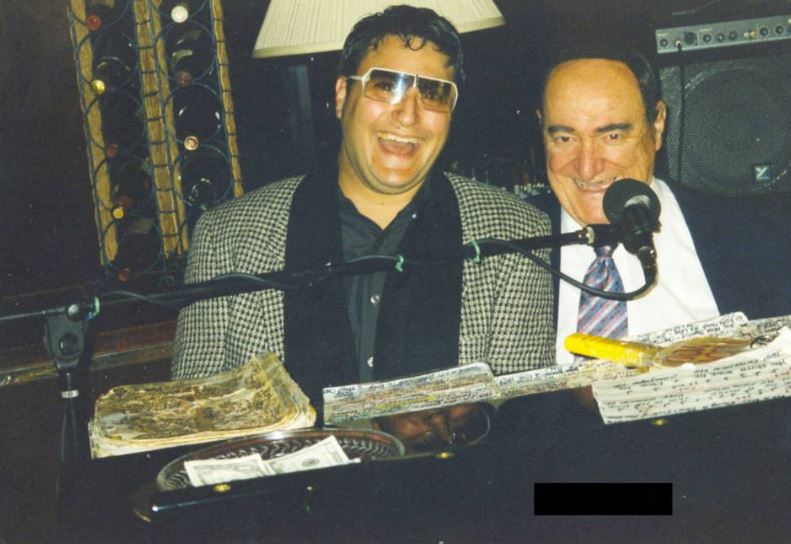 Ari Silverstein (Left) with Musician Jackie Jocko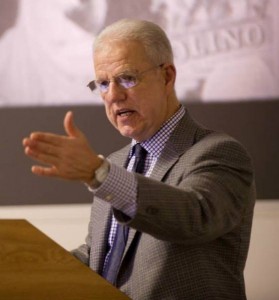 Ari's interest in jazz music was sparked in Buffalo, New York, when he took Music 206, "Jazz and Rock Foundations" at Buffalo State College. Focusing on the text book "American Popular Music and the Underground 1900 to 1950", taught by renowned Prof. Chuck Mancuso, the class focused on "history with a beat," following the popularity of music and it's societal relevance in culture from the marching bands of the early 1900's and minstrel shows to the start of the rock 'n roll movement in the late 1940's and early 1950's. Simply put, that class changed his life. Swing Era music cast the first spell, leading to the enchantment of the crème de la crème cabaret voices of Mabel Mercer, Bobby Short, and Blossom Dearie (among others). Prof. Mancuso's three screen approach, with over 75,000 slides, musical examples, and video clips, was completely captivating. Mancuso became his mentor. On holiday breaks Ari would go to New York City and seek and find many of these jazz and cabaret legends mentioned in the course and throughout the book. He connected with Steve Ross, Marlene VerPlanck, Ronny Whyte, and Julie Wilson. When Ari returned to Buffalo the next semester he found an artist in residence–jazz legend Mark Murphy–coaching the young jazz singers in the vocal program. He soon became an assistant to Murphy helping him with CD signings, concerts, and lectures. Murphy became a lasting influence in his life, and afforded Ari opportunities to meet more world-class jazz artists such as Sheila Jordan, Andy Bey, and more.
Letter From The Jazz Cabaret Hall Of Fame Inductee Ronny Whyte
His entrepreneurial path led him to begin working as an event producer/curator in Buffalo on the Student Union Board, programing events for BSC students and the greater Buffalo community. Ari facilitated and curated the first BSC faculty speaker series utilizing the local talent to share their interests, studies and experiences. Based on that success he was able to secure an Equity and DIversity Grant to curate his first concert and lecture series with National Endowment for the Arts Jazz Master, Sheila Jordan, and renown bassist Cameron Brown. The panel discussion was: "Does the music really set you free? A discussion about racial and sexual discrimination in the entertainment industry." He then went on to produce the Ronny Whyte Trio as the inaugural performance in the Burchfield Penney Arts Center focusing on Buffalo with its rich heritage of composers, featuring songs about the city. The concert was a huge success with standing room only and garnered great reviews.
Ari subsequently curated another musical series in 2012— "High Standards: The Legacy of The Great American Songbook," concerts in tandem with panel discussions, collaborating with Prof. Mancuso. The featured artists included:
Steve Ross – Panel Discussion/Presentation From Saloon to Salon: Travelling With My Piano
Concert: Fred Astaire, Top Hat, White Tie and Tails.
Kathleen Landis – Panel Discussion/Presentation The Art of Song/Women in Jazz: A discussion of the art movements relationship to music and her 20 plus year experience at New York's Fifth Avenue Café Pierre.
Concert: While We're Young: A Tribute to Alec Wilder.
Bob Dorough – Panel Discussion/Presentation/Concert From Be-bop to School House Rock: The talk will focus on Bob's influential song writing and his importance in writing educational songs for the popular TV series School House Rock.
Ari continues to be active in the jazz and cabaret scene in NYC and beyond as a fixture, consultant, devoted fan, and tune-smith, in addition to producing the annual private concert series, "On Command."
Jazz Walking Tours is Ari's current focus. Look for more to come on Jazz Walking Tours soon!
Ari in the news
http://www.buffalonews.com/article/20060330/LIFE/303309930
http://www.buffalonews.com/article/20051006/LIFE/310069912
http://www.buffalonews.com/article/20050908/LIFE/309089902
Ari with Prof. Chuck Mancuso