Ari Silverstein Hosts The Encore Series at Cafe Noctombulo
Pangea Restaurant 178 Second Ave. Between 11 and 12th Street
Call for reservations 212-995-0900
http://www.pangeanyc.com/#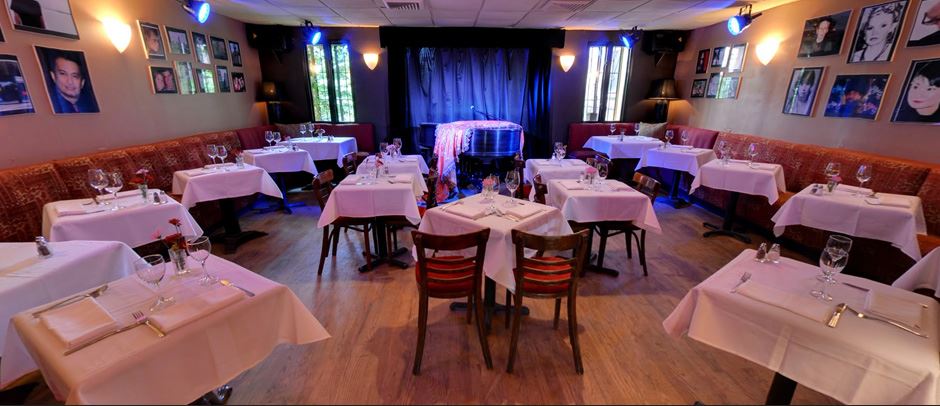 Giacomo Gates w/ John DiMartino
Sets at 7 PM and 9 PM Cover $18 Minimum $15
Two of the Hippest Cats on the Planet Earth come together for this one night only special event. Giacomo is working on a new album debuting some of the material from that project. This gig also happens to fall on Mark Murphy's birthday and we will pay tribute to him as well. Mark was influential in getting Giacomo booked for his first gig in NYC at Jays.
Cover $18 with a $15 minimum

"Mr. Gates is a solid example of a performer who is doing something that no one else does. He evokes an age (that I would hope is not so terribly bygone) when musicians were entertainers and entertainers were musicians, and a sense of humor was as important as a sense of rhythm."
-Phillip Elwood San Francisco Examiner
"Pianist John di Martino seems to play in and out of a trance, but there is so much happening in his style, that the listener becomes mesmerized. his amazing piano had the audience roaring approval! He was particularly impressive with a touch comparable to the melodically challenging finesse of Kenny Barron."
March 20- Madame Pat Tandy
Sets at 7pm and 9pm $10 Cover $15 Minimum

Blues, R & B and jazz star the SASSY Madame Pat Tandy will appear and shake the house down. If you have never been to a Madame Pat show your in for a treat, you will be singing along, clapping your hands and stomping your feet. You will go home with a smile on your face!
"Mr. Albright, at the piano, and Madame Tandy can belt, they can growl and they can hit the heights and plumb the depths of their material." Madame Tandy is at her best as one of those sturdy women who have seen it all and survived, especially when "it" happens to refer to men and love.
—Lawrence Van Gelder, NY TImes
March 21- Bob Dorough Trio (Pat O'Leary Bass and Steve Berger Gtr)
​Sets at 7pm and 9pm Cover $20 and Minimum $15

He worked with Miles Davis and Blossom Dearie, and his adventurous style was an influence on Mose Allison, among other singers. He is perhaps best known as the primary composer of and performer of many of the songs used in Schoolhouse Rock!, a series of educational animated shorts appearing on Saturday morning television in the 1970s and 1980s on ABC affiliates in the United States. He has released vocal jazz albums periodically over the last 50 years; his latest, Eulalia, came out in 2014.
March 27 – Sarah McLawler and Les Jazz Femmes Featuring Carol Sudhalter on Sax and Flute and Melissa Slocum on Bass
Sets at 8pm and 10PM $15 Cover $15 minimum (This night has a later start time)

"Sarah McLawler is one of the liv­ing leg­ends of Amer­i­can jazz and player of the Ham­mond B-3 organ. She is the com­poser, con­duc­tor and per­former of her cur­rent all women's jazz ensem­ble–Sarah McLawler and Les Femmes Jazz. In her wide-ranging career, Sarah has worked with many of the greats in the busi­ness, includ­ing Dinah Wash­ing­ton, George Ben­son, Pearl Bai­ley, Nat King Cole, Dionne War­wick, Glo­ria Lynn, Max Roach, Milt Jack­son, Erroll Gar­ner, Art Tatum and many, many more".
March 28 – Marianne Solivan
Sets at 7PM and 9PM | $15 Cover $15 minimum

One of the best young vocalists in the world is joining us this evening. Her career is certainly taking off as is evidenced by her constant play on jazz radio. She is sultry but can certainly swing with the best of them, she is Marianne Solivan. He latest album SPARK has garnered rave reviews.
April 10th An Intimate Evening Remembering the Cafe Pierre Featuring Kathleen Landis and Nancy Winston Plus Special Guests
Sets at 7 9PM and 9 PM Cover $25 and Minimum $15

Kathleen Landis and Nancy Winston re-kindle the flame that was lit at the Cafe Pierre for two decades. One of the most special places on earth the Cafe was full of great music, eclectic staff, bold faced names, celebrities and debutantes. Kathleen will be showcasing some of her new jazz work as well as songs written by cabaret favorite composer Francesca Blumenthal. Nancy will showcase some of her own compositions and work with some of our guest performers who would come by and sing a number at the Pierre such as cabaret personality Evan Stern and former Maitre D' Opera Singer Ramon Avalo.
April 11 Joe Alterman Band
Sets at 7 and 9pm $15 Cover $15 Minimum
This young man has "the groove" you will be shaking in your seat and dancing in the aisle. His recent tribute to one of his musical fathers Les McCann was nothing short of AMAZING!
"The last piece I did for them [The Wall Street Journal] – I'm so glad I had a chance to do it – is about a 24 year old pianist and composer named Joe Alterman, who is really the personification of the past of jazz – he's really deep into that -, the present of jazz – he has his own voice – and that leads him into the future of jazz, and he's so important in terms of the validity of jazz… They [Joe Alterman and Houston Person} make recordings that – to use the phrase that Duke Ellington really had a chance to use – they're 'beyond category' because they're timeless." — Nat Hentoff
April 17 Marlene VerPlanck
Sets at 7 and 9pm $20 Cover $15 minimum
She is more than just MMMMMMM MMMMMM GOOD! (yes that was her voice in the famous Campbell's Soup commercial) She is pure vocal perfection. Marlene quite simply always nails the note and has some of the most diverse arrangements and song selection in jazz.
"…She may be the most accomplished interpreter of popular material performing today…"
– The New York Times
April 18-Valerie Capers Trio featuring Jon Robinson III on Bass and Doug Richardson on Drums
Sets at 7pm and 9pm $18 Cover $15 minimum

Known for having some of the most entertaining arrangements in Jazz Valerie Capers is always an amazing show. She can swing, she can play ballads with the best of them, she can certainly bop. And she can cook too! Valerie is also featuring some of her vocal selections this evening as well. You will never forget her, or this evening.
"She picked out songs on the piano as a child before losing her sight at the age of six. Her blindness did not stop her from learning to read music in Braille and becoming the first blind graduate from the Juilliard School of Music. Although a classical player at the time, she was attracted to jazz, and was soon working with Mongo Santamaria. In 1965, Capers recorded for Atlantic; 17 years later, she would finally cut her second date (a self-produced effort for the tiny KM Arts label), and it would be another 13 years before her Columbia set. Capers did work with Ray Brown, Slide Hampton, James Moody, Max Roach, and Dizzy Gillespie in the interim, but was mostly employed as a high-level educator. Wagner Takes the "A" Train on Elysium appeared in 1999" Scott Yanow